It's that time of year when donors are inundated with year-end fundraising appeals, and nonprofit organizations struggle to have their messaging stand out. By offering new fundraising ideas, your donors will be excited to create meaningful holiday traditions.
Here are five fresh year-end fundraising ideas:
1. Create an impact gift guide
Gift guides offer a list of suggested items or experiences to make it easier to find the perfect gift.
How about creating a gift guide with impact? Each "gift" featured on the guide matches a donation amount with the project or individual served through that donation. This bridges a connection between the donation and your organization's meaningful work.
Take a peek at this example by United Way of Tucson and Southern Arizona: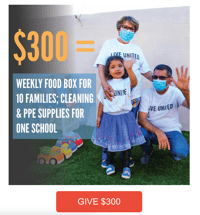 2. White Elephant Gift Exchange with Purpose
Encourage your donors to host a white elephant gift exchange in which your organization's programs or partner agencies are the "gifts." Within the invitation, the party's host (your donor) will request that his or her guests select one of your causes, programs, or partner agencies that the giver will support.
Guests will wrap items related to the cause or program (for example an apple to fund a school lunch program). Next, they will participate in the same way as a white elephant gift exchange. At the end of the exchange, each giver will make a donation to the cause or program the recipient selected.
3. An alternate holiday card
As opposed to your donors stressing over sending holiday cards, encourage them to donate the money for the cards and stamps toward your cause. Your donors can send out an e-card or email with their well wishes for friends and family. Included in this message should be a mention of their donation and a donation link to further their collective impact.
4. Work with your corporate partners
Reach out to your corporate partners and share with them your year-end fundraising goals. Encourage your corporate partners to ask their employees to donate a portion of any holiday bonuses or to give before the year-end.
Another idea is to host a company-wide volunteer event as opposed to a holiday party. If your corporate partners do host a holiday party, employees can bring in-kind gifts to create a more purpose-filled experience.
5. Holiday movie trivia with a twist
To offer a fun and festive component to a holiday party, hosts can coordinate a holiday movie trivia game. The individual with the most correct answers can "win" a donation to a program or partner agency of their choice.
Finally, don't forget about AmazonSmile! In your year-end emails, encourage donors to do their holiday shopping with AmazonSmile. Amazon will donate a portion of the price of the items to your organization.
With these fresh fundraising ideas, your donors will be encouraged to think outside the box this holiday seasons and incorporate more purpose within their traditions.