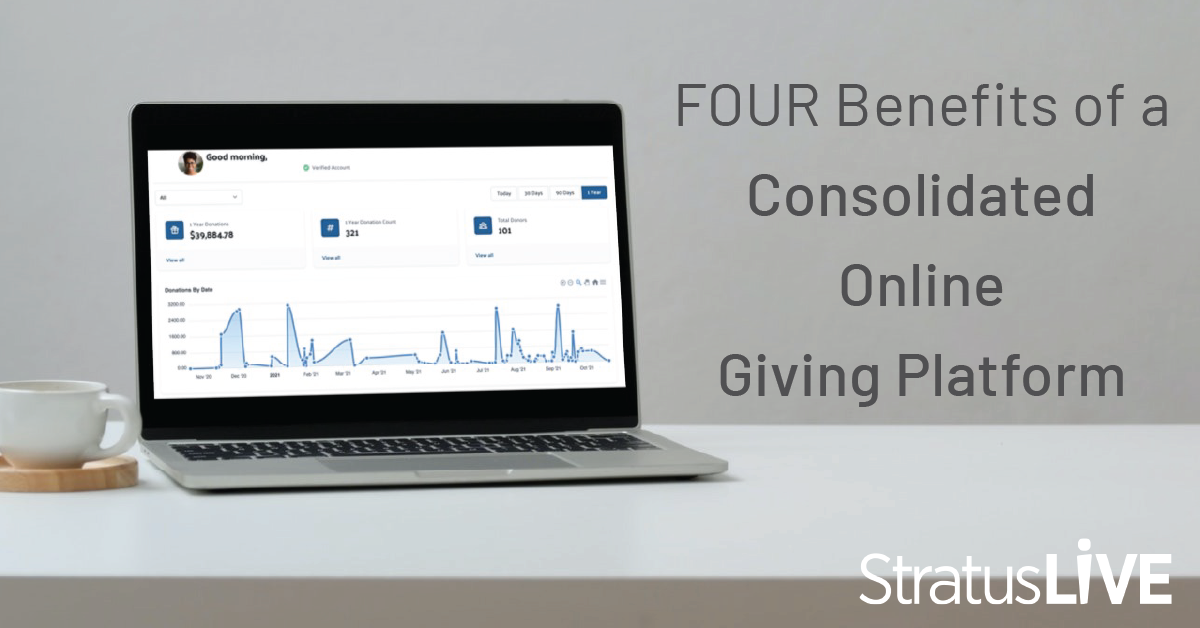 One solution for event management. A different solution for peer-to-peer fundraising. Yet another solution for marketing. Does this nonprofit technology mishmash sound familiar?
For many nonprofit organizations today, it is common to have disjointed technology systems. Over time, business leaders select a system to solve one or a few problems. This results in disparate software that leads to an increase in manual import and export efforts and duplicate records. This ultimately results in poor data hygiene and data silos which prevent your team from participating in real-time decision-making and meaningful collaboration.
A consolidated online giving platform (such as StratusLIVE Ignite) eliminates these point solutions or disconnected applications. One tool provides ease of use, automates processes, and empowers users to drive fundraising strategy and direction.
Here are four benefits of a consolidated online giving platform:
1. Deepen your online fundraising strategies.
One online giving platform allows nonprofit administrators the ability to compare the success of online giving campaigns within the same user interface. With this one user interface, administrators have a comprehensive understanding of results without the risk of misinterpreting their data. The need to login to multiple platforms and export data is eliminated.
Let's take an example. By navigating to real-time dashboards with statistics on your donation pages versus your DIY pages, you determine that the donation total for your DIY fundraising pages is higher than your donation pages. Digging further into the data, you determine that your birthday fundraiser campaigns generated most of your donations. This data point compels your development director to invest more funds toward birthday fundraiser promotion.
2. Expand and scale your online fundraising initiatives.
Without a consolidated online giving platform, it is difficult to scale your online giving appropriately. You may have a distorted view of which campaigns actually drive results and invest more time or resources within poorly performing campaigns. A single solution allows your organization to launch new campaigns, monitor the results, and then determine a plan to expand.
For example, a nonprofit new to online fundraising should begin their digital transformation journey with online donation pages. Donation forms should be embedded within the appropriate pages on their website. Once the organization develops an effective strategy to market these pages and generate results, then it makes sense to consider peer-to-peer giving or DIY fundraising.
3. Focus on building relationships.
A major responsibility of a development director's role is to build relationships with donors. However, if you utilize multiple point solutions to launch campaigns and analyze results, you spend more face time with your laptop than a potential major donor.
A single online giving platform with features such as a low-code, no-code page design and rapid deployment reduces time and speed to respond, deploy, and execute. This offers the freedom for your development director to connect with donors one-on-one.
4. Identify how fundraising activities contribute to outcomes.
Without fundraising, your nonprofit's programs wouldn't exist, thereby leaving your mission unfulfilled. A consolidated online giving platform that integrates with your CRM allows your organization to map how your fundraising campaigns drive toward program outcomes. This information displays trust and transparency with your donors and prioritizes fundraising tasks that generate real results.
---
"Digital transformation is more about people than technology."
– Dr. Linda Hill
As fundraising professionals, we must remember technology is only a tool. Donors, constituents, and nonprofit staff drive engagement with these tools. If your current online giving technology systems do not allow you to drive deeper donor engagement and build community, it's time to consider alternatives.