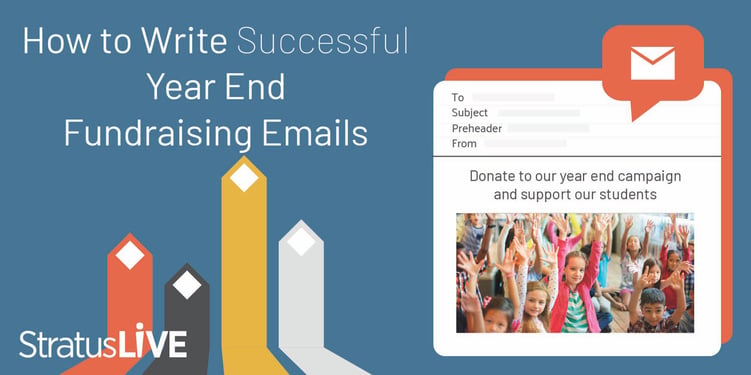 Year end fundraising email campaigns are crucial tactics to drive toward annual fundraising goals. In this blog post, we outline the importance of these emails, best practices, basic rules of a successful email, and ways your nonprofit can use technology to improve your strategy.
Introduction: The Importance of Year End Fundraising Emails for Nonprofits
A third of all yearly giving happens in December. Twelve percent of all yearly giving occurs in the final three days of the year. Over a quarter of nonprofits raise as much as half of their fundraising in December (statistics provided by National Giving Month). Year end fundraising is critical to a nonprofit's total annual fundraising.

To secure those last-minute donations, it's important to develop a year end fundraising email campaign. These appeals are sent to donors, stakeholders, and other nonprofit supporters during the end of the year with a call to action to donate. Funds raised from this type of campaign are typically used for general operations or specific projects related to the nonprofit's mission.

Every year, nonprofits send these emails to generate donations to meet their yearly campaign goals. The success rate from these emails can be determined by how much money was raised through the campaign. Other metrics to track may be related to the average donation amount and response rate.
Email Marketing Best Practices for Year End Campaigns
There are several email marketing best practices for nonprofits' year end campaigns. First, before developing any email content, it's important to create your campaign goals. Evaluate your fundraising metrics to date. What is your annual campaign goal for the year? How close are you to achieving that goal?
Considering these targets, you can then develop your email campaign goals related to total revenue, response rate, and target donation amount generated per email. After each email send, determine the progress made toward these goals, and tweak your content or list based upon these results. After your first email send, did you have a high response rate but did not reach your targeted gift amount? Perhaps you should increase your ask amount in your next email.

A second best practice is list segmentation. It can be tempting to email your entire database with your year end fundraising appeal; however, it is much more effective to develop targeted lists through segmentation. Characteristics of these lists will frame your messaging, ask amount, images, and other email elements. Here are several data points you can use to segment your list:

- Demographic data including age and gender
- Giving capacity
- RFM (Recency, Frequency, and Monetary Value)
- Cause concepts or program interests
- Engagement score

A third best practice is A/B testing. A/B testing allows email marketers to send two separate versions of the same email. Both emails have the same call to action, but one element is different. The goal is to help determine which element was responsible for driving the most conversions. Here are examples of elements to test:

- Subject Lines
- Content (Video vs. Text)
- Messaging
- Images
- Overall email design and length
- CTA placement

Consider the following A/B test for your year end fundraising email. In Email A, you highlight the impact of your donors' contributions this year. In Email B, you draw attention to the programmatic goals you have yet to achieve. Which message will drive you closer to your goals – a focus on gratitude and accomplishments or the focus on deficits?
The Basic Rules of a Successful Year End Fundraising Email
There are several basic rules to consider to craft your year end fundraising message.

1. Thank your donors and remind them of the impact of their gifts.
2. Share the story of one of your organization's beneficiaries.
3. Create a sense of urgency by featuring your annual fundraising goal and requesting immediate action to meet this deadline.
4. Include a testimonial from one of your board members or donors.
5. Offer a gift or free resource related to your cause.

Most importantly, don't forget to include a clear call to action to your constituents. This will eliminate any confusion regarding your ask.
How Your Nonprofit Can Improve its Year End Fundraising Emails with Technology
An integrated, comprehensive nonprofit cloud solution is the backbone to any successful fundraising email. This solution includes a CRM to house all donor details and demographic information needed for list building and segmentation. With previous campaign data housed within the same platform that builds year end fundraising emails, you can run queries and generate churn reports to determine who gave last year versus this year. This information can be exported or utilized for list building. With workflows, nonprofit fundraising staff can be alerted whenever a gift is given, so immediate acknowledgment of that gift can be provided. Dashboards allow team members to track incoming donations versus goals and evaluate the success of each individual email send. Focus your fundraising efforts by starting your day viewing a dashboard such as this. With these critical data points at your fingertips, your organization can become data-driven.
The utilization of one solution to curate informed lists, build and send emails, and analyze the results will drive a comprehensive approach to your year end fundraising.
Conclusion: Final Thoughts and What to Keep in Mind when Writing your Year End Campaign Emails
Year end fundraising can be especially stressful for nonprofit organizations. However, with a structured year end fundraising email strategy, you can focus your marketing efforts on activities that will generate results. Ultimately, it is important to remember that the success of your emails depends on how well your message resonates with your audience. If you successfully speak to the desires and needs of your donor base in engaging with your organization, test, and allow the data to inform your strategy, you will successfully meet your year end fundraising goals.
---
Tired of utilizing separate point solutions to maintain donor data and execute your email strategy? StratusLIVE 365 contains constituent management and marketing and engagement functionality to strategically engage your donors and drive toward fundraising goals.